welcome to Lakes Counseling Services
Our Founder
Intisar Hussein MSW, LICSW is a mental health therapist, founder of Lakes Counseling Services and an Adjunct Professor in the Department of Social Work at Augsburg University in Minneapolis, MN.
Hussein's practice specializes in mental health, and offers services to individuals from diverse communities impacted by trauma as well as those facing end of life decisions. Intisar is a member of the Somali, Latino and Hmong Partnership for Health and Wellness (SoLaHmo), a community-driven research program that engages in Community Based Participatory Research (CBPR) partnerships with academic researchers.
Through her work in SoLaHmo, she is currently a Community Co-Investigator on a National Institutes of Health funded study, Our body, Our health, to address topics in Somali women's sexual health. She received her Master's in Social Work from Augsburg University (2015) and her Bachelor's in Social Work from University of St. Thomas (2012). Intisar is an executive board member of the Minnesota Network of Hospice and Palliative care, presenting and advocating for end of life care and access to services since 2017. In 2019 she was elected by the Commissioner of Health to take the role of Social Worker on the Palliative Advisory Council.
"Our worst break could spark our biggest breakthrough and our darkest moment can lead us to light". Everyone at different points in life experiences difficult circumstances and issues that cause stress, anxiety, sadness, grief, anger, confusion, and other responses that impact the quality of our lives and relationships. I believe people carry the answers they seek inside them. Therapy provides a safe place to feel heard, to better listen to yourself, to find your truth and your voice. It can also be a place to practice expressing yourself in new ways; using the therapy relationship to break destructive or unhelpful communication.
I specialize in trauma and grief. I have over 9 years of experience working with 
clients from many walks of life. My approach in creating a therapeutic relationship is strength-based, culturally responsive and welcoming. I am a strong believer that by obtaining emotional well-being we can be our best selves daily.
Nothing inspires me more than offering hope to those who are in need and seeking to embark on a healing journey to become the best version of their self. I wholeheartedly, believe in assisting you in facing difficult life challenges, past trauma, pain, worry, and or fears to develop tranquility from the inside out.  
At Lakes Counseling we
provide therapy for all ages and offer individual, couples, groups,
What we specialize in:
Adjustment Disorder: an emotional or behavioral reaction to a stressful event or change in a person's life.  
Anxiety: Persistent and excessive anxiety and worry about activities or events
Bipolar Disorder: is a group of brain disorders that cause extreme fluctuation in a person's mood, energy, and ability to function.
Attachment Disorder: is a type of mood or behavioral disorder that affects a person's ability to form and maintain relationships. 
Obsessive compulsive disorder: An anxiety disorder that's characterized by obsessive thoughts and compulsive behavior. A person with OCD has unwanted, disturbing thoughts, urges, or images that drive them to do something repetitively.
Developmental disorders: are impairments in a persons physical, cognitive, language, or behavioral development. They can impact everyday functioning and usually last throughout a person's lifetime.  
Grief/Loss: intense emotional and physical reaction that an individual experiences following the death of a loved one. 
Intergenerational Trauma: Trauma that gets passed down from those who directly experience an incident to subsequent generations. 
Maternal mental health and peripartum mood disorders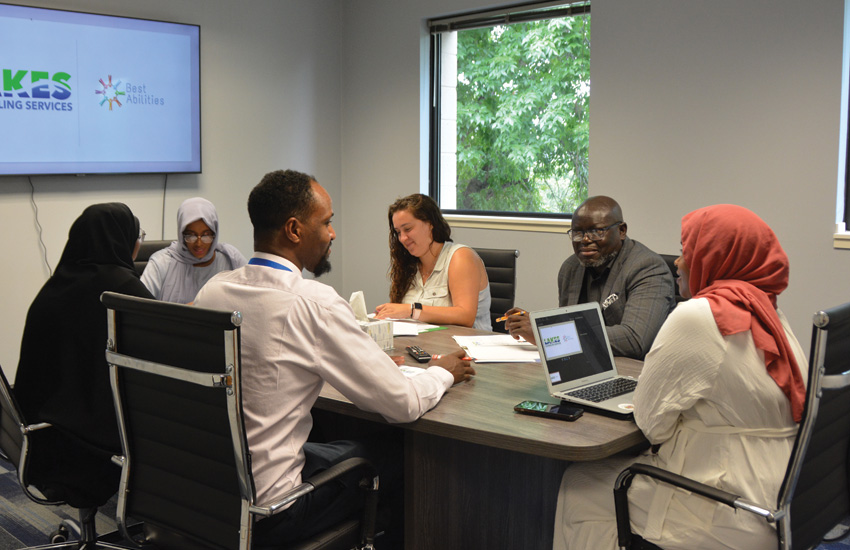 At Lakes Counseling we use different modalities to ensure our clients get the best services.
This includes: 
Cognitive behavioral therapy (CBT)  is a talking therapy that can help you manage your problems by changing the way you think and behave.
Acceptance and commitment therapy (ACT) encourages people to embrace their thoughts and feelings rather than fighting or feeling guilty for them.
Psychodynamic therapy focuses on the psychological roots of emotional suffering. 
Interpersonal Therapy Is a time-limited, focused, evidence-based approach to treat mood disorders. The main goal of IPT is to improve the quality of a client's interpersonal relationships and social functioning to help reduce their distress. 
Narrative Therapy is a method of therapy that separates a person from their problem. It encourages people to rely on their own skills to minimize problems that exist in their lives. 
Solution focused Therapy: places focus on a person's present and future circumstances and goals rather than past experiences.
Mindfulness-based cognitive therapy combines cognitive behavior techniques with mindfulness strategies in order to help individuals better understand and manage their thoughts and emotions in order to achieve relief from feelings of distress.
Board Certified Behavior Analyst (BCBA)
Job Summary:
The primary function of the Board Certified Behavioral Analyst (BCBA) is to plan, develop, and monitor a variety of behavioral support service delivery options to meet the needs of clients diagnosed with Autism Spectrum Disorders (ASD) and/or other behavioral and social/communication challenges. The BCBA also consults with and teaches instructional team members regarding pro-active, educational, programming, and behavioral supports; develops and implements comprehensive treatment plans; and collaborates with team members, related services providers, families, and other agencies as appropriate. The BCBA manages the Best Abilities team and provides ongoing training and direct supervision to team members.
Essential Duties and Responsibilities:
1. Use appropriate assessment instruments and data to develop and implement teaching programs that reflect behavioral and other outcomes and objectives identified in the Individual Family Support Plan (IFSP). Ensure the implementation of treatment plans, document contacts and observations; use professional knowledge and independent judgment to strategize continuous improvements.
2. Provide training and supervision of Best Abilities Trainers and instructional aides through observations, meetings, performance coaching and other methods.
3. Establish and maintain data measurement, collection, and analysis systems for clients receiving behavioral interventions. Maintain appropriate documentation and prepare and complete reports as required.
4. Ensure that all treatment plans and programs comply with contract requirements, satisfy all relevant insurance certification and other expectations, and meet or exceed professional standards. Maintain highly organized, consistent, thorough, and systematic recordkeeping practices.
5. Coordinate efforts with Case Manager to ensure that all treatment-related aspects of each IFSP are addressed thoroughly.
6. Seek creative options for ensuring the continuity and consistency of treatment and support services across settings for the lifespan of the client. Develop strategies for the stability of quality services when clients experience transitions.
7. Provide consultation, training, and assistance to Best Abilities team members as requested.
8. Conduct structured periodic service reviews to monitor the effectiveness of treatment programs and their implementation; modify and document plan changes as needed.
9. Provide staff development, training, and modeling for team members in strategies and methodologies for working with children on the autism spectrum and/or clients who have behavioral, adaptive, and/or social/communication challenges. Conduct in-service training, workshops, and presentations to develop skills and establish consistent practices.
10. Participate in Individual Education Program (IEP) team meetings for clients as appropriate.
11. Promote positive public relations, facilitate interagency collaboration, and advocate for the establishment and maintenance of comprehensive services.
12. Participate in professional growth activities such as conferences, classes, team meetings and program visitations.
13. Accept all other responsibilities as assigned.
Minimum Qualifications:
To perform this job successfully, an individual must be able to perform each essential job function satisfactorily. The qualifications listed below are representative of the minimum knowledge, skill and ability required. Reasonable accommodations may be made to enable individuals with disabilities to perform the essential functions.
Education and/or Experience:
1. Certification by the Behavior Analyst Certification Board, or significant current progress toward meeting certification requirements
2. A Master's degree in special education, psychology, or related field, with specialized knowledge of behavioral health and treatment philosophies and professional practices
3. A minimum of three years of recent experience working with individuals who have autism spectrum disorders and their families
4. Knowledge of early childhood and autism assessment tools and procedures, and thorough knowledge of child development. Experience developing positive behavior support plans and programs; experience teaching social interaction and play skills
5. Knowledge of current methods and techniques of applied behavior analysis and discrete trial training; ability to communicate effectively verbally and in writing with clients, parents, and professionals; competence in analyzing assessment results, designing appropriate individual treatment plans and behavioral programs, and monitoring progress
6. Must be able to work effectively as a team member, demonstrate flexibility and desire to learn new skills and improve professional qualifications, and travel independently in rural/remote locations.
Knowledge/Skills/Abilities:
1. Strong communication skills to work with a diverse team.
2. Basic computer skills and be able to use all required software.
3. Ability to problem-solve and assist in decision-making, including during emergencies or when a supervisor is not onsite.
4. Maintain current status regarding assigned core competencies and other required certification acquisition within established schedule and timelines.
5. Work productively to develop relationships with individuals, families, and natural supports.
6. Proven creative abilities, strong organizational and time management skills.
7. Excellent oral, written and interpersonal skills and good customer service skills.
8. Have a valid Montana Driver's license, reliable transportation and a driving record that will enable the employee to be insurable under STEP vehicle insurance.
9. Maintain a high level of organization for file maintenance, daily, weekly and monthly record keeping.
COVID-19 Precaution(s):
Remote interview process
Personal protective equipment provided or required
Plastic shield at work stations
Temperature screenings
Social distancing guidelines in place
Virtual meetings
Sanitizing, disinfecting, or cleaning procedures in place
Job Types: Part-time, Contract
Benefits:
Flexible schedule
Professional development assistance
Schedule:
Monday to Friday
License/Certification:
BCBA (Required)

Relocation Assistance Provided:
No
Contract Renewal:
Likely
Full Time Opportunity:
Yes
Work Location:
One location
Hours per week:
Less than 10
Work Remotely:
No
Position Summary:
Under the direction of a licensed mental health professional/BCBA, mental health practitioners and Behavioral therapist are responsible for providing therapy and coping skills training to individuals and families at our center, in-home and in community settings. The Mental health practitioner will create individual treatment plan tailored to each client's need and will work with each client and family in order to assist them to reach their goals.
Responsibilities:
· Implements clients Individual treatment plan as directed and completes required documentation on timely manner
· ABA therapy at home, center, school or in the community
· Collects and records all data accurately and in timely manner
· Coordinates services with families, schools, and case managers
· Must have a passion to serve clients from diverse backgrounds and experiences
· Must maintain client confidentiality.
· Must attend clinical supervision, training and meetings
· Other duties as assigned.
Qualifications:
· Minimum of 2+ years of experiences working in the mental health field specifically with children who are diagnosed with autism or related conditions
· ABA therapy experience
· minimum of an undergraduate degree or related work experience required
· Masters degree or in-process coursework preferred
· Great communication and listening skills
· Computer skills and knowledge of office software packages (Word, Email, Excel, etc…)
Responsibilities:

· Implements clients Individual treatment plan as directed and completes required
Preferred:
· Bilingual Spanish/ Somali/Hmong speaking a plus
Experiences working in an Autism Center
Knowledge and experience with ABA or other modalitie
Job Type: Full-time
Pay: $18.00 – $25.00 per hour
Schedule:
8 hour shift
COVID-19 considerations:
All staff and clients are required to wear masks. Mask are provided to clients and staff if one is needed.
Application Question(s):
Do you have experience working with kids that are on the Autism spectrum?
Education:
Work Location:
Work Remotely:
COVID-19 Precaution(s):
Remote interview process
Personal protective equipment provided or required
Plastic shield at work stations
Temperature screenings
Social distancing guidelines in place
Virtual meetings
Sanitizing, disinfecting, or cleaning procedures in place
Work Location: One location